India's stand-in skipper for the Zimbabwe series, KL Rahul, was trolled heavily on Twitter after he was dismissed for only 1 run in the second ODI, on Saturday, in Harare.
Rahul is coming back from a two-month-long injury layoff – he didn't play any game between the IPL 2022 and this tour – but his return hasn't been ideal, for Rahul and for Team India ahead of the Asia Cup 2022, where he is expected to open alongside Rohit Sharma.
In the first match vs Zimbabwe, no Indian batsman other than the two openers got to bat: Shikhar Dhawan and Shubman Gill chased down the target of 190 by themselves; KL Rahul was slotted in to bat at number 4.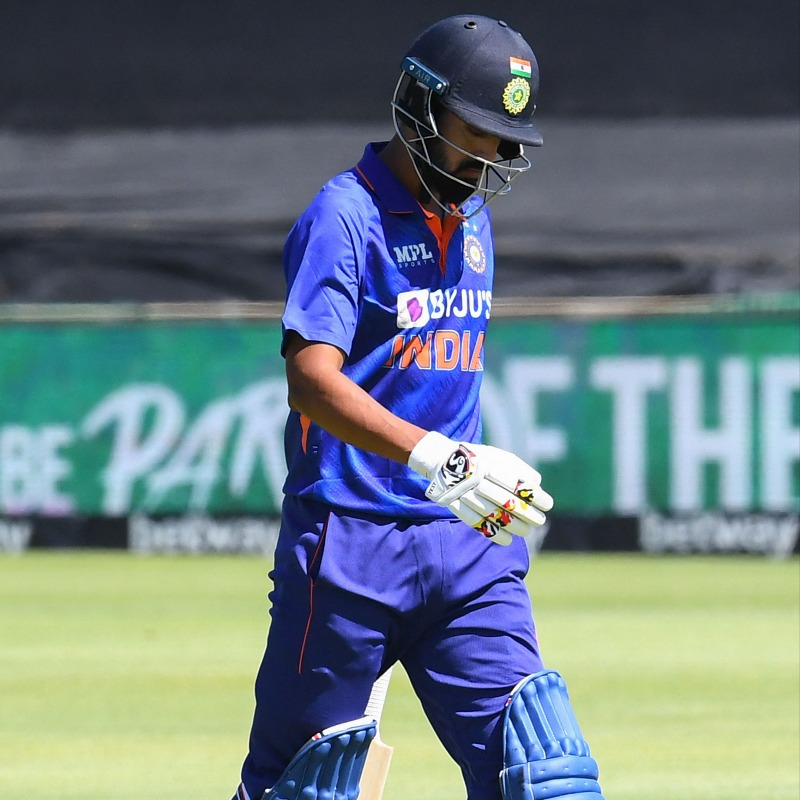 In desperate need of some game time, KL Rahul then opened in the second ODI, pushing Gill at number 3. However, Rahul could only manage 1 run in 5 balls, dismissed by seamer Victor Nyauchi in the second over of India's innings.
The delivery from right-arm pacer Nyauchi swung in and pitched slightly outside the off-stump. KL Rahul hopped a step outside but missed his flick and the ball, which continued to come in, stayed a bit low and hit Rahul on his front pad.
It was stone-dead and the umpire had no qualms in raising his finger. After a conversation with non-striker Shikhar Dhawan, KL Rahul, only in hope, took the review to no avail: the ball was shown hitting the top of leg-stump and Rahul had to take the long walk back after a solitary run on his India comeback.
Fans trolled and mocked and criticised Rahu, while some even expressed grave concern about Rahul ahead of the Asia Cup 2022.
Here are some of the reactions:
He is a brilliant No.5 in ODIs. He should continue there. I know he probably opened today for some game time, but in the larger scheme of things, he shouldn't open in the format

— Abhimanyu Bose (@bose_abhimanyu) August 20, 2022
KL Rahul has led India in 5 ODIs. His batting stats:

Innings – 4
Runs – 77
Balls – 111
Average – 19.2
Strike Rate – 69.3
Highest – 55

— 12th Khiladi (@12th_khiladi) August 20, 2022
💔

But it wasn't easy to bat after almost 200 days in international Cricket!
Doesn't matter how many runs you score, I'm always with you. 🙌🏻@klrahul • #KLRahul pic.twitter.com/4g3MG2YDdI

— Juman Sarma (@cool_rahulfan) August 20, 2022
India vs Zimbabwe: KL Rahul disappoints on return; dismissed for 1 run – Firstcricket News, Firstpost https://t.co/B7CuRIBkyg

— Icc Cricket Guru (@365_cricket) August 20, 2022
KL Rahul Bhai playing after long time after surgery and delay in recovery but people don't want to see him breathe. When he said "Whole country against 11 guys" , he actually had a premonition like the guys in Final destination.

— Rested Joker (Perry's version) (@Jokeresque_) August 20, 2022
Are Zimbabwe Itni Achi team kab ban gyi yaar India 98-4 15 overs 🥲 mujhe toh dar lag raha hai 😩 #ZIMvsIND #KLRahul #BCCI #Cricket

— Pankaj Gupta (@MrPankaj0605) August 20, 2022
With you champ @klrahul 💙

— Bhoomika 🏏 (@KlrSunshine) August 20, 2022
IND fans : Not a good comeback for KL Rahul..#ZIMvsIND pic.twitter.com/Cm8zvg7jBR

— Backchod Indian (@IndianBackchod) August 20, 2022
Bhai wo apna asli form asia cup ke liye bacha ke rakha hai😀

— Raghav Gandhi (@gandhijiii) August 20, 2022
Statpadder Comeback Innings 🤭🤭..@klrahul #ZIMvsIND @TukTuk_Academy pic.twitter.com/WR2mwJLmpS

— ᴀ ꜱ ɢ ᴀ ʀ ᴅ ɪ ᴀ ɴ (@JayaraamVJ) August 20, 2022
KL Rahul got insecured of Gill's performances and came out to open.
Scored a magnificent 1(5)

— Abhishek ︎ (@ImAbhishek7_) August 20, 2022
Boycott @klrahul 🤡

— 🫵🏼 (@KuskithalaV6) August 20, 2022
Captain kl rahul break k baad aaye hai aur lbw 🤣🤣🤣🤣🤣😂😂😂😂😂

— ᴘʀɪɪɪ💕✨ (@_InsanelyWeird_) August 20, 2022
bhai KL Rahul aaj statpadding krni thi,,1 par hi out ho gaye..😂😯#INDvsZIM

— Jatin Khandelwal (@jr_khandelwal) August 20, 2022
KL Rahul needs to get back in form ahead of Asia Cup 2022
Rahul had suffered a groin injury ahead of the South Africa T20Is soon after the IPL 2022. He missed the South Africa series and the England tour. After the successful completion of the operation in Germany, he went to the NCA. However, there he contracted with covid-19 and missed the West Indies tour.
KL Rahul had had another highly rewarding IPL season – leading the Lucknow Super Giants, the right-hander finished as the second-highest run-getter in IPL 2022, aggregating 616 runs, but his strike rate of 135 drew plenty of criticism.
Also Read: Big Blow For Pakistan As Shaheen Afridi Ruled Out Of Asia Cup 2022