India captain Rohit Sharma bagged a 10-ball duck in the second ODI against England, at Lord's, on Thursday as his inconsistent rut continues.
The bowlers had once again put up a clinical performance – though to not the extent as it was in the first ODI – by bowling England out for 246, with leg-spinner Yuvendra Chahal being the starman with 4 big wickets.
It was then up to the batters to take India over the line and take the series which they lead 1-0 after an emphatic win in the first ODI at The Oval.
Rohit Sharma, though, couldn't carry on with the momentum that he'd displayed a couple of days ago when he smashed  76* runs off 58 balls in which he stroked 7 exquisite fours and 5 thumping sixes, all hooks and pulls.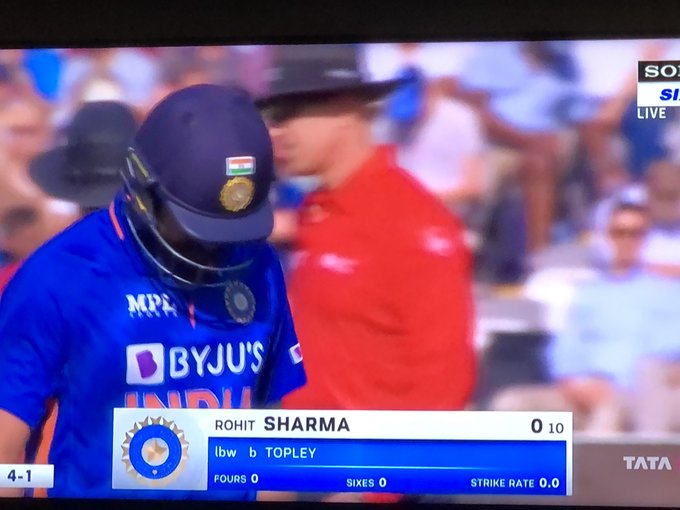 Rohit Sharma fails to open his account at Lord's
Today, the right-hander couldn't even open his account. England left-arm pacer Reece Topley tied Rohit down with a maiden over first up and then had him lbw with a delivery that pitched on leg-and-middle and went across the right-hander.
Sharma played a straightish on-drive with a slight slant bat – a perfectly straight bat perhaps could have saved him – as the ball snuck between the pad-bat gap and hit him on his back leg pad.
The England players went up in an appeal in unison and the umpire had no doubts in raising his finger. Sharma went quickly for the review, however to no avail as proved on the DRS, the ball was going to hit and top of off-and-middle.
You can watch the dismissal here:
The perfect start! 🙌

Scorecard/clips: https://t.co/VpwTb5GMkV

🏴󠁧󠁢󠁥󠁮󠁧󠁿 #ENGvIND 🇮🇳 pic.twitter.com/kuPcpz9xXb

— England Cricket (@englandcricket) July 14, 2022
This hasn't been a great year for Sharma so far as a batsman – he has notched up only 2 fifties, and not a single century, in 17 innings so far in 2022; he had also gone 14 innings in the IPL 2022 without a fifty.
Sharma, unsurprisingly, got roasted on Twitter following his 10-ball duck at Lord's.
Here are some of the trolls on Sharma:
Not an ordinary duck,it was a 10 ball duck

— Dr Sagar Garg (@DrGumsNProbes) July 14, 2022
Roshit 😔😔

— cool__guy (@arihant_pincha) July 14, 2022
— Ganesh and 76 others (@T52220983Fucku) July 14, 2022
12th time Rohit Sharma has been dismissed by left-arm quicks in limited-overs cricket since 2019…👀#ENGvIND pic.twitter.com/tp7iAJ8GRS

— CricXtasy (@CricXtasy) July 14, 2022
Not the captain but the batsman.
Huge L Rohit for today's batting https://t.co/LmNGjrBOuI

— 🕸️🕷️ (@ImRaghav_45) July 14, 2022
How many more times, we will witness Rohit out to left hander in similar fashion.virat, please take rest #ENGvsIND

— Somesh Maliq (@Somesh83maliq) July 14, 2022
Indian Captains to Score Duck at Lords (ODI)

Rahul Dravid

Rohit Sharma*#ENGvsIND pic.twitter.com/8uSNRo4xwx

— Verot Choli (unofficial Account) (@VerotCholi) July 14, 2022
Team india – Rohit & Dhavan 6over 6 Run…bad batting pic.twitter.com/P85yE6tjko

— Mak_Dilon (@dilen_prajapati) July 14, 2022
Just seen Rohit Sharma dismissal. Really struggling against Left arm fast bowlers especially the ball which comes in.

— Mushahid Hussain (@mushahid345) July 14, 2022
Blame Rohit for the lose.

— 🕸️🕷️ (@ImRaghav_45) July 14, 2022
"England ko thode runs banane do yaar, Rohit Dhawan Kohli tabhi to koi 100 karega" pic.twitter.com/SKxQSDd3GQ

— Soumyadip Dutta (@Soumyad87772934) July 14, 2022
Rohit Sharma
Left hand pacers
& LBW

Tell me a better trio than this. I will wait#ENGvsIND

— Osman Qureshi 🇵🇰 ᅠᅠᅠᅠᅠᅠᅠᅠᅠᅠᅠᅠᅠᅠ (@QureshiSayss_) July 14, 2022
Also Read: Watch: Rohit Sharma Dislocates His Elbow During 2nd ODI, Quickly Puts It Back